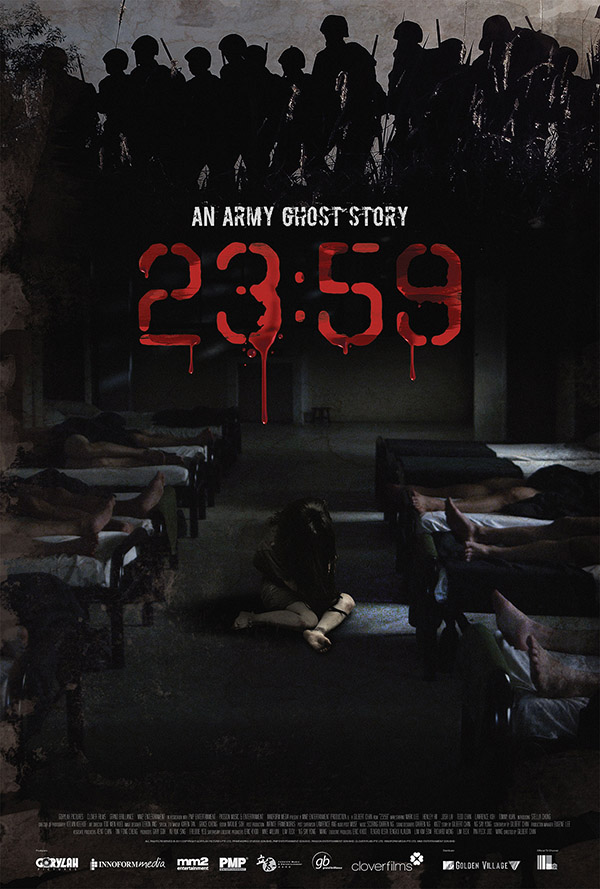 23:59 is a psychological horror thriller set in 1983 on an island used for military training.

A rumor had been circulating like wild fire amongst the soldiers. A mad woman living on the island had died at the exact hour of 23:59, and it is believed that her spirit had returned to haunt the soldiers at the exact same time.

One of the recruits, Tan, the introverted platoon outcast, is adamant that he will be the next victim of the mad woman's spirit.

He tries to convince his buddy Jeremy that the woman's spirit has been visiting him every night. Jeremy laughs it off and claims that there are no such things as ghosts in this world. They only exist because of Tan's overactive imagination.

However, during the 24 km road march for the platoon in the forest, something mysterious and gruesome happened…

Fueled by fear and disbelief, Jeremy decides to investigate the strange phenomena that the military had written off as an accident.

Little does he know that the truth behind the mysterious and gruesome incident will unearth a terrible dark secret of the island and he will have to confront his deepest fears in order to find the truth.

View website
Directed by Gilbert Chan Written by Gilbert Chan / Ng Say Yong
Executive Producers Eric Khoo / Tengku Iesta Tengku Alaudin / Tan Peck Joo / Mang / Richard Mong / Lim Kim Sow / Lim Teck / Mike Wiluan
Produced by Gary Goh / Au Yuk Sing / Freddie Yeo Associate Producer Kent Chan / Tan Fong Cheng
Starring Mark Lee / Henley Hii / Josh Lai / Tedd Chan / Lawrence Koh / Tommy Kuan
Cinematography by Kelvin Keehoe Music by Darren Ng Art Director Too Wen Huel
Edited by Natalie Soh Distributed by Golden Village Pictures / Clover Films / Magnolia Pictures Release date 3 November, 2011
Running time 78 minutes Language Mandarin / English