One Leg Kicking Trailer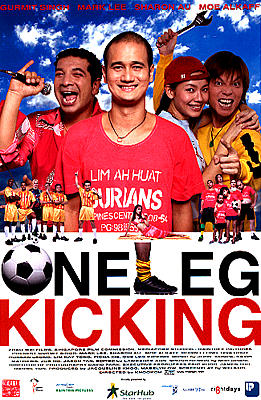 One Leg Kicking" tells the story about a group of underdogs who form an amateur football team (THE DURIANS) to play in a fictional local league organized by a farsighted sponsor. The prize for the winners : a trip to the 2002 World Cup Finals. Gurmit Singh plays (TAI PO) the common man's hero, raising his two young children single handedly after his wife passes away.

The rest of the "Durians" include Mark Lee (HANDSOME), an ex-convict with major anger management problems, Moe Alkaff (VERNON), a lounge singer struggling against his deadly nemesis, the karaoke machine; and Sharon Au (KIM) a tender but tough tomboy, while Siva Choy (SAMMY BEST) plays the inspirational coach who moulds them into a winning side.

View website
Directed by Khoo Koh Written by Eric Khoo / Wei Koh / Redmund Law / James Toh
Executive Producers Eric Khoo / Daniel Yun / James Toh Produced by Jacqueline Khoo / Mabelyn Ow
Starring Mark Lee / Gurmit Singh / Moe Alkaff / Sharon Au / Siva Choy / Hossan Leong / Robin Leong / Lim Kay Tong / Fiona Xie
Cinematography by David Park Music by John David Kompa / Kevin Matthews / Jason Tan / Joe Ng
Edited by Lawrence Ang Distributed by United International Pictures
Release date 2001 Running time 90 minutes Language English